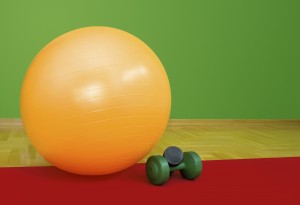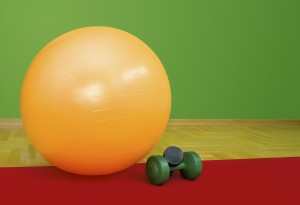 Physical Therapy (PT) – What and How we (Physical Therapist (s) do it.
Every one has either been to Physical Therapy in the past, or at the very least has a pre-conceived notion of what it's supposed to be, feel, and look like.  Throw it all away! At LIVE EVERY DAY, we live our mission each and everyday, from the way a person is greeted at the door, to the laser focus we have in your care.  One-one, all the time, every time.  Each injury, just as each individual patient case, is unique. The expert physical therapists at LIVE EVERY DAY Physical Therapy will deliver personalized care to help you to recover safely and quickly while addressing pain, mobility, range of motion, kinematics, body mechanics and help you smile the entire time. Our goal is your goal and commitment is to provide outstanding outcomes for all types of injuries, aches & pains.
If you found this page through our LIVE EVERY DAY blog, be sure to head back the main website www.liveeveryday.org to get an even better sense of the incredible care and experience we share with our patients and growing Farmington Valley community.    Here's a long pick list of aliments we assist with at LIVE EVERY DAY –
Arthritis / Arthrosis Therapy
Neck Therapy
Lower Back Treatment
Shoulder Therapy
Rotator Cuff Therapy
Elbow, Wrist, and Hand Therapy
Hip Treatment
Knee Therapy
Foot and Ankle Therapy
Sports Medicine
Vestibular Rehabilitation
Pediatric Physical Therapy
Developmental Delays & normal bumps and bruises
Sciatica, frozen shoulder, migraine headaches, neck pain, radiating neck to shoulder pain, Rotator Cuff surgery (not rotator cup – often confused), falls/fallrisk/history of falls, labral tear, biceps tear, wrist sprain, thumb hurts, pelvic pain, deep hip pain, jumpers knee, patellar dysfunction, fasciitis – you name it we'd be happy to help!  This is going to be fun.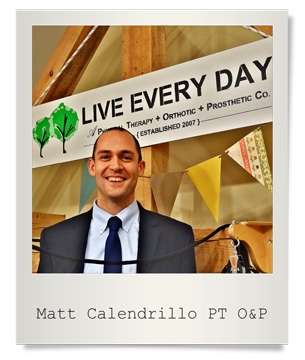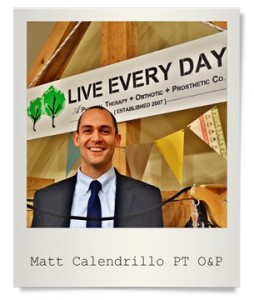 Matt Calendrillo PT, BOCOP
Doctorate of Physical Therapy, Board Certified Orthotist/Prosthetist, founder
LIVE EVERY DAY
A Physical Therapy, Orthotics, Prosthetics Co.
138 Hopmeadow St.
Simsbury, CT 06089
liveeveryday.org
A full complement of private outpatient services with clinical excellence in orthopedics & neuromuscular re-education throughout the entire age spectrum. Our care is uncompromised. Our results surround a patient-first model: always one-to-one treatments with personalized goals, and a full systematic approach.
Meta-tags: Rehabilitation, Ankle Sprain, Physical Therapy, Simsbury, CT, Connecticut, Ankle Brace, AFO, Partial foot amputation, Matt Calendrillo, Calendrillo, LIVE EVERY DAY, Orthotics, Prosthetics