Day 1 – Global Health Initiative – Mission Haiti 2017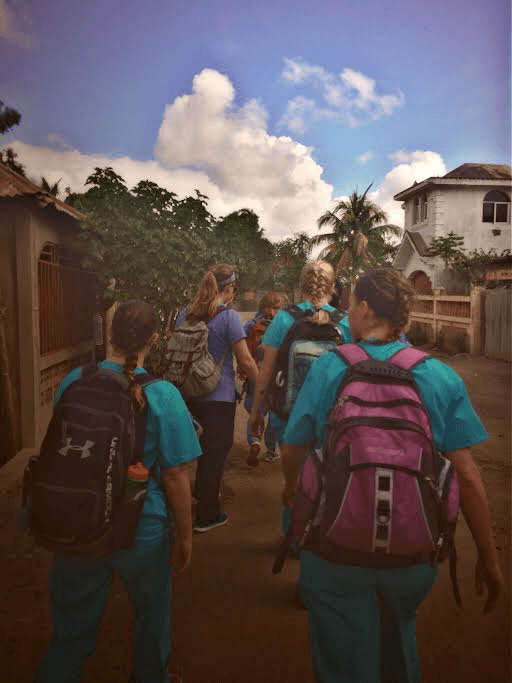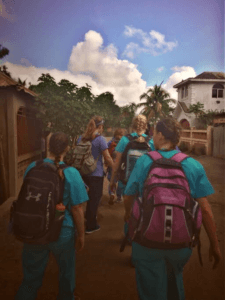 On this snowy Tuesday morning, I was delighted to get our first successful contact from Mary Monahan, from her mission work in Haiti.  Through a broken text exchange, and feeling guilty of drawing her away from those that need her the most; we learned they are all in fact safe and already started their good work.
This year marks Mary's 3rd year traveling to Quanaminthe in rural Haiti.  This year, she's made transition from graduate student to alumni/practicing professional.  Her skill set has grown both in those tangible and those in leadership of others.  I'll continue to update the local LIVE EVERY DAY community of Mary's dedication to helping others and I'll be sure to pass along our thoughts to her and her group.
[ Day 1 in Haiti: We all made it walking across the border from the Dominican Republic to Ouanaminthe, Haiti, the town that FONHARE is located in. All scrubs on board! Great first day! 3 OT students, 4 PT students, and 1 recent OT grad who also translates for us. Saw a variety of patients post stroke, a few orthopedic cases and kids! FONHARE had some new equipment compared to last year which was amazing! And we had an afternoon rain shower that cooled things off a bit. ]
LIVE EVERY DAY
A Physical Therapy, Orthotics, Prosthetics Co.
138 Hopmeadow St.
Simsbury, CT 06089
liveeveryday.org
768 South Street
Suffield, CT 06078
liveeveryday.org
A full complement of private outpatient services with clinical excellence in orthopedics & neuromuscular re-education throughout the entire age spectrum. Our care is uncompromised. Our results surround a patient-first model: always one-to-one treatments with personalized goals, and a full systematic approach.
Meta-tags: Rehabilitation, Stroke Rehab, Physical Therapy, Simsbury, CT, Suffield, CT, Global Health Initiative, Springfield College, Mission Trip, Haiti, LIVE EVERY DAY, Orthotics, Prosthetics, Calendrillo, Monahan, Mary Monahan, Matt Calendrillo